Green Mountain Educational Fellowship, Inc., licensee of WVFA-FM had filed an application with the FCC for a minor change which will increase the station's Effective Radiated Power [ERP] from 12 to 15 watts using existing omnidirectional antenna pattern on the existing tower on Shaker Mountain in Enfield, NH.
LATE BREAKING NEWS: Our application was granted 7/10/2015!
We immediately raised our transmitter output power sufficiently to raise our ERP to 15 watts.
There will be some improvement in reception in our primary listening area – places with previously marginal reception will notice improvement. Our "fringe" reception area will be pushed out possibly another mile or two.
While this is not necessarily a dramatic change we are grateful for every opportunity to serve our audience better.
We're still working on a more comprehensive application for significantly higher power using a directional antenna array and want to be sure every aspect of it will pass FCC muster.
As soon as details are available we'll do our best keep our listeners informed.
The WVFA Coverage Map showing this proposed change is shown below!
If you are interested in helping us raise funds for a directional antenna array & installation, some options are shown below!  Also find more details at our FACEBOOK PAGE: WVFA 90.5 FM
You may make a check or money order payable to:
Green Mountain Educational Fellowship
and send it to:
WVFA – 90.5FM
PO Box 126
Hartford VT 05047-0126
You may also pledge a contribution by contacting
the general manager William A Wittik at:
(802) 295-9683
or emailing him at:
VTpreacher@aol.com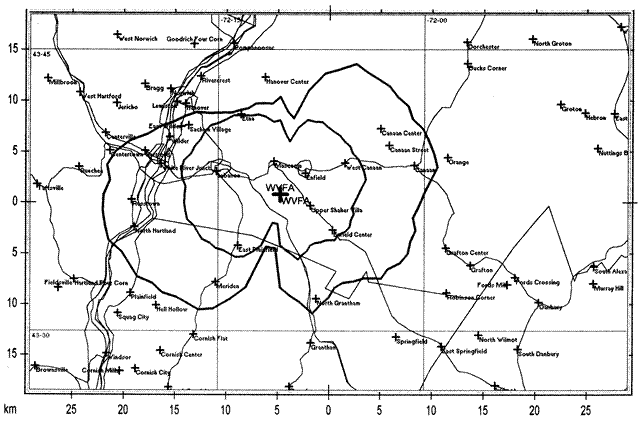 WVFA COVERAGE MAP
(0.012 KW ERP non-directional pattern)
(*0.300 KW directional proposed)